Microwave Mixers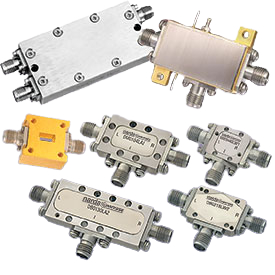 The term Microwave refers to electromagnetic waves, with wavelengths ranging from 1 mm to 1 m, or frequencies between 0.3 GHz and 300 GHz. There are over 400 Microwave Mixers in our standard catalog, with RF frequencies up to 50 GHz.
Narda-MITEQ designs and manufactures one of the most extensive Microwave Mixer product lines on the market today.
---
Our Schottky MESFET products are offered in both commercial grade as well as high reliability hermetically-sealed mixers.
Narda-MITEQ can also offer customized solutions that meet your specific requirements. This can include new design efforts, modifications to existing designs for performance and mechanical needs, as well as additional testing and environmental screening.
Please contact Component Sales with any special requirements you may have: Tel: 631-231-9220
These mixers are backed by Narda-MITEQ's
Warranty
and most are available as RoHS Compliant components.
---
Mixers
---
Please
Contact Narda-MITEQ
for more information:
More Contact Options...