Fiber Optic Links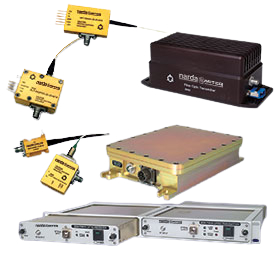 Narda-MITEQ designs and manufactures a broad range of high-quality Fiber Optic Links. These fiber optic links can include: small compact size, bandwidths from 5 kHz to 18 GHz, low noise, high dynamic range, cooled and un-cooled DFB laser, plug and play so there are no external control circuits required.
Our Fiber Optic Links include a transimpedance amplifier in both the fiber optic transmitter and fiber optic receiver. These fiber optic products include operational status monitor pins and much more.
Our Fiber Optic Links are characterized using a specific transmitter and receiver. It is often possible to choose alternative transmitters and receivers to improve performance, or reduce cost.
---
Narda-MITEQ's Fiber Optic Links are Ideal for both IF and RF signals, communication systems, antenna and local oscillator remoting, delay lines, digital and cellular signals, GPS antennas, internet towers to name a few.
Our Fiber Optic Links are available in many different packages which include: Hermetic Kovar, Rack mount and outdoor enclosures.
These Fiber Optic Links could be used in very wide applications such as EMC testing, Antenna Remoting (LO Remoting/ Phased Array Antenna), Inter-facility RF communication Links, Radio Astronomy, Radio over fiber, Delay Lines for Radar applications (radar testing and calibration), Network Analyzer Port Extenders, Airborne and shipboard applications, TV broadcast, CATV, Wireless and Mobile/Cellular Communications; S,L,C,X, Ku, and Ka Band Links for Satellite Ground Stations, Wireless communications inside Tunnels and Buildings, Electronic Intelligence (ELINT), Electronic Warfare (EW) and Electronic Counter Measures (ECM), SATCOM applications, Tactical Common Data Link (TDCL), Frequency and timing distribution, Telemetry, Particle Accelerators and Colliders (Cyclotron).
Narda-MITEQ can customize the electrical specifications and packaging of all our fiber optic receivers, fiber optic transmitters and fiber optic link pairs to meet your specific requirements. So let Narda-MITEQ be your custom fiber optic solution.
Please contact Component Sales with any special requirements you may have: Tel: 631-231-9220
Narda-MITEQ Fiber Optic Links are backed by Narda-MITEQ's Warranty and most are available as RoHS Compliant components.
Note:
Class I Laser Products.
FDA/CDRH Class I laser products. All transmitter versions of the fiber optic component enclosures (Option EI, WP, SE, and ME) manufactured by Narda-MITEQ are Class I laser products per the CDRH, 21 CFR 1040 Laser Safety requirements. Furthermore, all transmitter versions of the fiber optic component enclosures are Class 1M laser products per IEC 60825-2.
---
Literature:
---
---
Active Components
|
Fiber Optic Products
---
Please
Contact Narda-MITEQ
for more information:
More Contact Options...