Table Top Amplifiers For Compliance Testing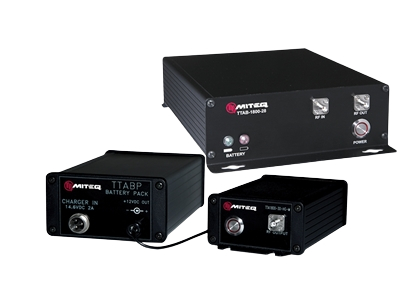 All information below is for historical reference purposes only.
Narda-MITEQ's TTA Series of high performance Broadband Low Noise Amplifiers were specifically developed for Electromagnetic [EMC] compliance testing. Our latest addition to the TTA series is our battery operated version, which allows for up 10 hours of continuous use on a single charge. This battery option can be purchased as a separate add-on [TTABP] if you already own a TTA or supplied internal in a single enclosure at the time of the order as a TTAB.
The TTA is enclosed in a small [5.1" L x 3.5" W x 1.9" H] case and the TTAB is in a slightly larger [6.5" L x 6.5" W x 2.0" H] case. This series of amplifiers covers both the Commercial/Medical and Military bands for emissions testing and comes with our standard generous warranty. A universal wall plug in power supply is included with each TTA which operates from 50-60 Hz / 100-240 VAC. CE approved. The TTAB comes with a separate battery charger.
---
Applications:
EMI Compliance testing
Covers both the Commercial/Medical and Military bands for emission testing
The 1-18 and 18-40 GHz TTAs have both a standard and high gain model
1-40 GHz Version
Advantages:
Small/lightweight simple plug and play
Standard Narda-MITEQ generous warranty
Zero AC Power Line Noise [Battery Option]
Customers:
Semiconductor Manufacturers (Design and Compliance Lab)
Computer Manufacturers
Medical Electronics equipment manufacturers
Automotive manufacturers
Cellphone manufacturers
Third party EMI test labs
Options: [Must be included at time of order and will change the model # slightly]
RF input limiter protection up to one watt @18 GHz
Higher Power Output up to +20 dBm
RF Connector types
Mounting bracket
---
Amplifiers
---
Please
Contact Narda-MITEQ
for more information:
More Contact Options...