Attenuators - Step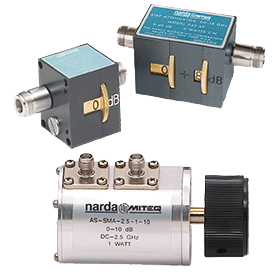 Thumb Wheel and Panel Mount Step Attenuators
Broadband DC-18GHz
Small Size
Precision Construction and High Reliability
Precision 1 dB or 10 dB steps, to 69 dB
Panel Mount or Stand Alone
Commercial Use Step Attenuators
DC-2.5GHz
For Commercial Wireless Applications
To view Attenuator application notes, please click
here
.
To view or download information on specific Narda-MITEQ Models, please click on one of the below categories.
The Narda-MITEQ Thumb Wheel Attenuators can be panel mounted and requires purchase of separate field installable mounting kit. The Rack Mounting Kit accommodates all attenuator series housings. Please download the model PDF for the information on mounting kit part number 43017200, sold separately.
---
Sub-Categories:
---
Parent Category:
Passive Components
---
Please
Contact Narda-MITEQ
for more information:
Click Here For More Contact Options...