Couplers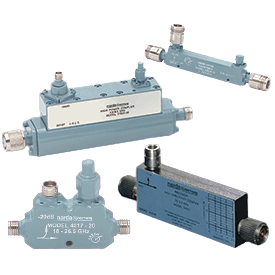 Narda-MITEQ offers RF and microwave Couplers which cover a wide range of applications from DC to 40 GHz.

Applications include:


EW Systems
Radar
Millimeter Wave Communications
OEM Test Equipment
100 Watt TWT Power Monitor Circuits
BIT Circuits
Jammers
Test Equipment/ATE
Power Amplifier Control
Radar-Transmitter Circuits
100 Watt Miniature Stripline Design
Measurement of High Power RF Signals
Reliable Monitoring of TWT High Power Amplifiers
Testing of EW Systems with High RF Power Outputs
Power Tube Test Stands
Satellite Communication Transmitters
Power Monitoring and Transmission Protection Circuits
For detailed application notes for Couplers, please click here
.
To view or download information on specific Coupler Models, please click on one of the sub-categories below.
---
---
Passive Components
---
Please
Contact Narda-MITEQ
for more information:
More Contact Options...