PIN Diode Attenuators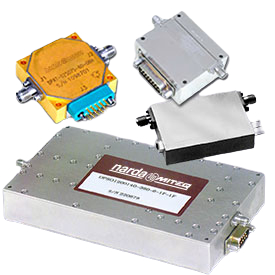 Narda-MITEQ offers a full line of analog and digital PIN Attenuators with attenuation ranges of 60 dB on all of our standard products. We also offer custom products, including an 8-bit digital attenuator with an LSB of 0.125 dB and maximum attenuation of 80 dB.
Narda-MITEQ can customize the electrical specifications and packaging to meet your specific requirements, even over octave bands.
These PIN Diode Attenuator solutions are backed by Narda-MITEQ's generous warranty and most are available as RoHS Compliant components.
---
A PIN diode attenuator is a type of variable attenuator that uses a PIN diode as the primary component. The diode is used to control the amount of RF (radio frequency) power that is passed through the circuit by varying the diode's current. This allows the attenuation (or reduction) of the RF signal to be precisely controlled. PIN diode attenuators are used in RF and microwave applications, such as telecommunications and wireless systems, to adjust the level of a signal before it is transmitted or received.
---
Literature:
---
---
Active Components
|
Spaceborne Products
---
Phase Shifters
|
PIN Diode Switches
|
Power Dividers
---
Please
Contact Narda-MITEQ
for more information:
More Contact Options...