Single Balanced Mixers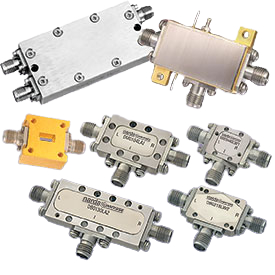 Single-Balanced Mixers suppress any RF or noise energy that may be present with the LO (common mode or noise rejection). In addition, single-balanced mixer circuit are particularly easy to bias and monitor the diode currents.
A one-diode, or unbalanced mixer, is often used in economical receiver front ends, where tunable or fixed bandpass filters can easily separate the LO, RF and IF energy coupled to and from the diode. Early wideband receivers utilized two diodes in a single-balanced mixer circuit with a 90° hybrid to couple RF and LO power to a pair of diodes. This technique allowed overlapping LO and RF bandwidths without filters, but the isolation was dependent on how well the diodes were impedance matched. Broadband 180° hybrid balanced mixers eliminated this problem.
---
Alternately, one could also make an easily biasable single-balanced mixer with multioctave bandwidth coverage using a diode bridge. This appears very similar to the ring double-balanced mixer (also shown), but the key difference is that all even order products are cancelled in the output of the double-balanced, whereas only even products of the RF are cancelled in the single-balanced circuit.
Single Balanced Mixers:
Active Single Balanced Mixers
Passive Single Balanced Mixers
Image Rejection Single Balanced Mixers
IQ Single Balanced Mixers
Sub-Harmonic Single Balanced Mixers
Waveguide Single Balanced Mixers
Narda-MITEQ can also offer customized solutions that meet your specific requirements.
Please contact Component Sales with any special requirements you may have:Tel: 631-231-9220
Narda-MITEQ Mixers are backed by Narda-MITEQ's
Warranty
and most are available as RoHS Compliant components.
---
Mixers
---
Please
Contact Narda-MITEQ
for more information:
More Contact Options...