Waveguide Horn Antennas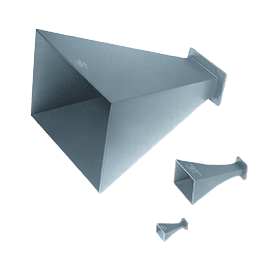 To view or download information for all current models of Waveguide Horns, please click here.
To view or download information on obsolete Waveguide Horn Antennas, please click on the link below.
To view a waveguide to coaxial adapter that will mate with the waveguide horn that you may require, please click here.
---
A waveguide horn antenna is a type of directional antenna that consists of a flared metal waveguide, which is used to match the impedance of the transmission line to the free space. The flared shape of the waveguide creates a beam of radio waves that is directed in a specific direction, making the antenna highly directional and efficient at transmitting or receiving signals in that direction. Waveguide horn antennas are commonly used in microwave communication systems, radar systems, and other high-frequency applications.
---
---
Passive Components
---
Please
Contact Narda-MITEQ
for more information:
More Contact Options...