New Product Release: Medium Power Amplifiers (MPAS)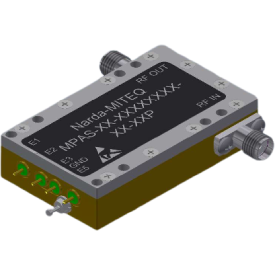 The MPAS family of amplifiers feature multi-octave bandwidth ranging from L to K band (2 to 20 GHz), built-in thermal protection and reset, and over/under current alarm. MPAS models also offer improved matching for ease of design and integration and reduced power consumption through electronic (TTL) On/Off switch capability.
MPAS amplifiers are universal broadband devices and are often used as gain blocks, drivers, or intermediate-stage amplifiers.
Because MPASs deliver a 1 Watt of linear power (P1dB) and a low Noise Figure (NF), an MPAS amplifier can be used as either a low-noise input stage or as the only amplifier in the receiver chain, delivering significant cost savings.
---
Amplifiers
|
Medium Power Amplifiers
---
Please
Contact Narda-MITEQ
for more information:
More Contact Options...