SATCOM Amplifiers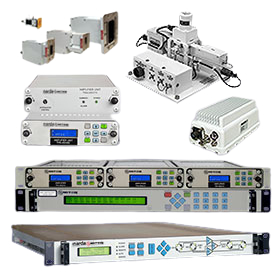 Narda-MITEQ has been a pioneer in the field of Amplifier development for 70 years. We offer one of the world's most extensive catalogs of amplifiers.
Space Saving, patented 1/3 rack 1RU high Amplifiers
These unique, full function space saving amplifiers offer the same performance and options as our full rack units but require 1/3 the rack space of a traditional unit. Redundancy can be achieved in 300% less space, now that is a true savings. Space savings 1/3 rack units are only available from Narda-MITEQ: 1/3 Rack Mounted Amplifier Systems - TRA Series, these unique 1/3 rack mount products are also available as Amplitude/Slope Equalizer Systems.
---
SATCOM Amplifiers:
---
In addition to providing amplifiers for SATCOM applications, Narda-MITEQ also offers a wide array of RF/Microwave Component Amplifiers and Amplifier Assemblies.
---
Amplifier Systems
|
Waveguide Amplifiers
---
Amplifiers
|
SATCOM Products
---
Amplifier Assemblies
---
Amplifiers
---
Please
Contact Narda-MITEQ
for more information:
More Contact Options...