Fiber Optic Redundant Switchover Units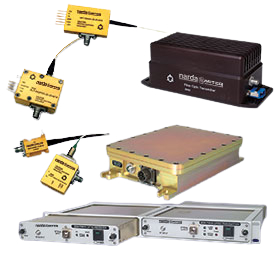 The 1:1 Fiber Optic Redundant Switchover unit is designed to ensure continuous operation allowing a unit fault to be repaired and/or routine maintenance to be performed without disruption of signal transmission.
The 1:1 Fiber Optic Redundant Switchover unit can be ordered as an RF, fiber, or a combination of RF and fiber switching system
The 1:1 Redundant Switchover Unit is used with two fiber optic units, one on-line (Unit A) and the second in a standby mode (Unit B). A fault condition in the on-line Unit A, or an operator generated command, will switch the standby Unit B to the on-line position and remove Unit A from the transmission path.
A full feature set of commands is available for both remote and local control.
---
Features:
RF and optical switching
Local and remote control (RS485/422)
10/100Base-T Ethernet)
Automatic/manual control from both
local and remote control
Remote status
Off line output
RF switch position indicators
APC optical connectors
Narda-MITEQ can customize the electrical specifications and packaging of all our fiber optic products to meet your specific requirements. So let Narda-MITEQ be your custom fiber optic solution.
Please contact Component Sales with any special requirements you may have: Tel: 631-231-9220
Narda-MITEQ Fiber Optic Links are backed by Narda-MITEQ's
Warranty
and most are available as RoHS Compliant components.
---
Fiber Optic Products
---
Please
Contact Narda-MITEQ
for more information:
More Contact Options...