SATCOM Products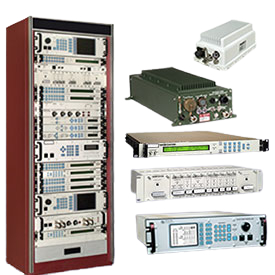 SATCOM Installations All Over The World.
Narda-MITEQ is a proven and recognized leader in the Telecommunications Industry with thousands of installations worldwide. Serving both the Military and Commercial Markets, Narda-MITEQ designs and manufactures standard and customized satellite communication equipment. Narda-MITEQ's SATCOM product line includes Frequency Converters, Translators, Redundant Switchover Units, Amplifier Systems, Video Products, INMARSAT Products, Equalizer Products, Uplink Power Control Products, Power Amplifiers and Custom Communication Equipment.
---
---
Brochure:
---
Space Saving, patented, 1/3 rack 1RU high SATCOM Products
Unique, full function space-saving 1/3 products are available with the same performance and options as our full rack units but require 1/3 the rack space of a traditional unit. The 1/3 product line is patented #7,510,090 and only available from Narda-MITEQ. These 1/3 rack 1RU high solutions are available in the following products: Amplifiers, Frequency Converters, Translators, Equalizer Products, Fiber Optic Transmitters and Receivers, as well as in our Broadband and Ultra Broadband Products (contact Narda-MITEQ for additional information on our Broadband and Ultra-Broadband product line).

The Space Savings feature of the 1/3 products is unbelievable and allow you to create Redundancy, Three-Channel Amplifiers, FO Transmit and Receive, Equalizer and Switchover or even Test Translator Block Configurations in 1 RU. Think of a 1:12 Redundant Equalizer Configuration in 300% less Rack space. Now that's a savings, and the combinations are endless!

---
Support
Technical Notes
(requires an account)
Firmware
(requires an account)
---
Products
---
SATCOM Legacy Products
---
Please
Contact Narda-MITEQ
for more information:
More Contact Options...