Cryogenic Amplifiers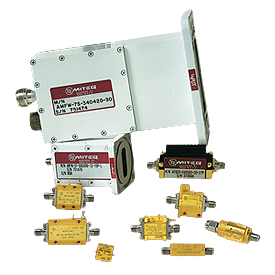 Narda-MITEQ has supplied Cryogenic Amplifiers for over 50 years. Typically, the customer provides the cryogenic cooling, but we have supplied some amplifiers with built-in cryogenic cooling systems. Our broadband low noise Cryogenic Amplifiers are often of interest to Radio Astronomers for use in radiometers.
For Cryogenically Cooled Amplifiers, improvements in noise figure depend upon the type of FET used. pHEMT FETs have improved noise figures down to 77K, and mHEMT and InP devices improve down to 4K. Discrete InP FETs are difficult to obtain and difficult to work with, and are rarely used.
---
To reduce the thermal load on the cooling system and the thermal rise of the junction, the voltage regulator is placed outside the cooled zones, and the supply voltage is made as low as possible. In addition, voltage regulators do not operate at cryogenic temperatures.
Many of our designs are mechanically sound to 77K, or even down to 4K. Because of potential stability problems, we generally do testing at or near 77K.
Since 1969, Narda-MITEQ, the pioneers in Amplifier development, have been customizing to our customers specific requirements. This can include new design efforts, modifications to existing designs for performance and mechanical needs, as well as additional testing and environmental screening.
Please contact Component Sales with any special requirements you may have: Tel: 631-231-9220
All amplifier products are backed by Narda-MITEQ's
Warranty
and most are available as RoHS Compliant components.
---
Amplifiers
---
Please
Contact Narda-MITEQ
for more information:
More Contact Options...