About Narda-MITEQ
Know Narda-MITEQ – Your partner for RF/Microwave and SATCOM solutions
Our deep technical expertise, fueled by innovation and grounded in nearly seven decades of experience is at the heart of what we do at Narda-MITEQ.
Our customers rely on us to help them meet the challenges of their next-gen military and commercial applications with our broad portfolio of RF/microwave, spaceborne and SATCOM solutions. Narda-MITEQ designs and manufactures an extensive range of standard active/passive components, subsystems and IMAs, as well as custom solutions to meet the unique requirements of today's high reliability applications and tomorrow's connectivity challenges. Narda-MITEQ, part of the Narda Holdings family of companies, delivers solutions renowned for durability, reliability and performance to address the specific requirements found on land, sea, air and the harsh environment of space.
Key Narda-MITEQ offerings: Active/passive components and subsystems, including Amplifiers, Mixers, Oscillators/Synthesizers, Couplers, Power Dividers, Fiber Optics, PIN Diode Control products and SATCOM solutions.
---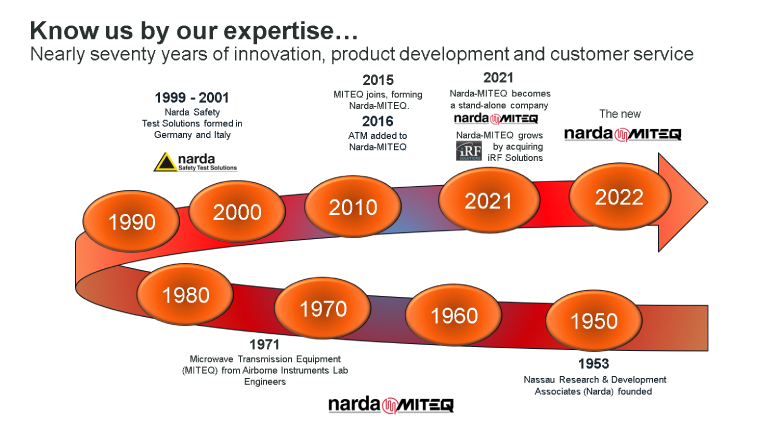 ---
Know us by our Values
Safety
There are no compromises when it comes to safety.
Integrity & Ethics
We are committed to ensuring ethical and impartial business practices.
Trust & Respect
We believe that trust is a belief in employees and respect is trust in action.
Accountability
We hold ourselves to a common expectation that each is responsible for words, actions and results.
Innovation
We enable our team to use and develop their skills, knowledge, experience and creativity to the fullest potential.
---
Sub-Categories:
---
Related Information
Custom Solutions
|
Customer Service
|
Manufacturing and Design Capabilities
|
Quality Assurance
|
Spaceborne Products
---
Corporate Links
Customer Support
---
Please
Contact Narda-MITEQ
for more information:
Click Here For More Contact Options...