Custom Solutions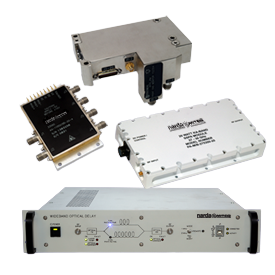 Although Narda-MITEQ offers one of the broadest arrays of standard catalog products, a significant percent of our work is for customized components, assemblies, and systems designed specifically around customer needs. For customers with specialized or unique requirements, Narda-MITEQ maintains dedicated engineering resources to support custom-generated specifications. The result? Innovative design or modifications to existing designs for performance and mechanical needs, as well as additional testing and environmental screening.
Delivering this extensive customer support takes skill, expertise and dedication – and an investment in resources. Narda-MITEQ's expert engineering and manufacturing teams, both with deep capabilities, have the benefit of:
The latest commercial CAD and proprietary software programs, as well as an extensive machine shop with top-of-the-line numerically-controlled Okuma, Mitsui, Seiki and Matsuura vertical machines capable of machining to the tightest of tolerances, guaranteeing repeated accuracy and reliability.
Narda-MITEQ's state-of-the-art equipment. To address your custom requirements, we take advantage of our wide array of vector network analyzers and synthesized sources, phase noise test sets, custom noise figure measuring equipment, glass furnace equipment to control the process of glass sealing, thermal/humidity chambers, and PIND and shock and vibration stations for environmental screening, to name just a few.
---
---
Products
---
About Narda-MITEQ
---
Please
Contact Narda-MITEQ
for more information:
More Contact Options...