Converter Modules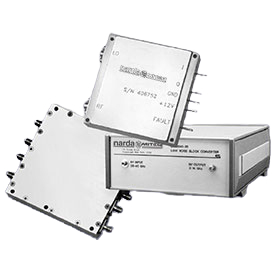 Narda-MITEQ's converter modules include, but are not limited to single-, dual-, three-, four- and five-channel converters. With extensive design options these systems and sub systems can include low-noise, minimized PM noise, channel to channel tracking, remote band/blanking/BIT selection and internal crystal references to name a few.
Packaging Options Include:

Weatherproof enclosures
Desktop enclosures
Hermetically sealed
---
Since 1969, Narda-MITEQ has been customizing to our customers specific requirements. This can include new design efforts, modifications to existing designs for performance and mechanical needs, as well as additional testing and environmental screening.
Please contact Component Sales with any special requirements you may have:
Tel: 631-231-9220
All Converter Module products are backed by Narda-MITEQ's
Warranty
and most are available as RoHS Compliant components.
---
---
Active Components
|
Spaceborne Products
---
Converter Assemblies
|
Frequency Converter Systems
|
Frequency Multipliers
|
Modulators
---
Please
Contact Narda-MITEQ
for more information:
More Contact Options...