Frequency Multipliers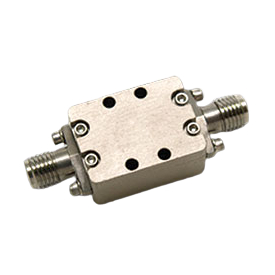 Schottky diode Frequency Multipliers are lowest cost and require the least input power (+10 dBm). Output noise is at room temperature (KTBW). The resulting current waveforms, however, have a high duty cycle (ie, square wave=50%) and therefore, higher multiplier harmonics above the fifth decay quickly.
Step-recovery diodes have impulsive waveforms with comb-like output spectrums. The Frequency Multiplier input circuit is more complex requiring a compromise between bandwidth and efficient coupling to the low diode series resistance. The required input power is a function of the SRD capacitance and quickly rises with frequency (+20 dBm typical at 1 GHz).
The hyper abrupt varactor diode (indistinguishable at high frequencies from the SRD) yields the higher output powers and efficiency, provided that unwanted sidebands are reactively terminated. Narda-MITEQ has successfully made efficient frequency doublers and prescalers (halfers) at 10 and 20 GHz.
---
Frequency Multipliers
Active Frequency Multipliers:
Active x2 Frequency Multipliers
Active x3 Frequency Multipliers
Active x4 Frequency Multipliers
Active x5 Frequency Multipliers
Active x6 Frequency Multipliers
Passive Frequency Multipliers
Passive x2 Frequency Multipliers
Passive x3 Frequency Multipliers
Narda-MITEQ maintains dedicated engineering resources to modify our standard designs in support of custom-generated specifications that are typically required in stringent system applications. These critical requirements often require high spectral purity. Narda-MITEQ can obtain high levels of fundamental and spurious signal suppression as required in many frequency source applications by employing special
filter technologies.
In addition to custom-filter designs, Narda-MITEQ also has advanced amplifier technologies which, when combined with balanced multiplier designs, offer high performance active multipliers, especially in the areas of shaped frequency response and desired output levels.
Please contact Component Sales with any special requirements you may have: Tel: 631-231-9220
All multiplier products are backed by Narda-MITEQ's
Warranty
, and most are available as RoHS Compliant components.
---
Converter Modules
|
Modulators
---
Please
Contact Narda-MITEQ
for more information:
More Contact Options...