Directional Couplers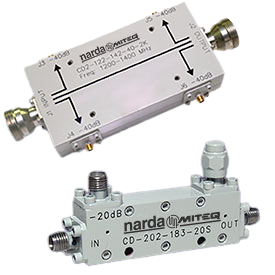 Narda-MITEQ manufactures and designs a line of coaxial Directional Couplers. These Directional Couplers boast both superior performance and reliability. They feature low insertion losses, ultra-broadband performance, off-the-shelf delivery and compact designs.

Our Directional Couplers are suitable for 40 Gb systems and typical applications include: OC768 transmitters and receivers, general purpose test and measurement systems. Some options are available such as custom frequency bandwidths and different connector outputs. They are often used at the input or the output of an amplifier to prevent loading of the bias voltages.
---
Since 1969, Narda-MITEQ has been customizing to our customers specific requirements. This can include new design efforts, modifications to existing designs for performance and mechanical needs, as well as additional testing and environmental screening.
Please contact Component Sales with any special requirements you may have:
Tel: 631-231-9220
These Directional Coupler products are backed by Narda-MITEQ's Warranty and most are available as RoHS Compliant components.
---
---
Passive Components
|
Spaceborne Products
---
Power Dividers and Hybrids
---
Please
Contact Narda-MITEQ
for more information:
More Contact Options...