Power Dividers and Hybrids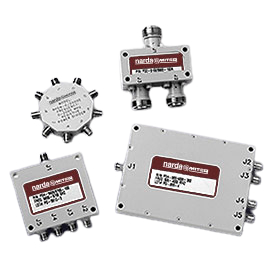 Narda-MITEQ features a very wide selection of narrow and broadband Wilkinson style power dividers with SMA, Type N and 2.92 mm coaxial connectors. The majority of our offerings are our classic field proven Microstrip and Stripline designs, offering exceptional RF performance with the most rugged off the shelf environmental performance in the industry.

All of the power dividers and hybrids (these hybrids are stripline based unterminated 3 dB couplers in 90 and 180 degree output signal relationships) featured in our Catalog 32 as illustrated on this web page are guaranteed to perform to the indicated MIL-STD test methods for Humidity, Shock, Altitude, Vibration and Thermal shock, right off the shelf. In fact, they can withstand even more harsh environments, please contact us for that information as may be required.

Our very large selection of products includes narrow or octave band, and ultra-broad band multi-octave devices, and of course, we maintain a stock position for rapid delivery worldwide.

Also featured are commercial versions, with outstanding electrical performance but with scaled down packaging, priced accordingly.
---
---
Passive Components
|
Spaceborne Products
---
Directional Couplers
|
Phase Shifters
|
PIN Diode Switches
---
Please
Contact Narda-MITEQ
for more information:
More Contact Options...