PIN Diode Switches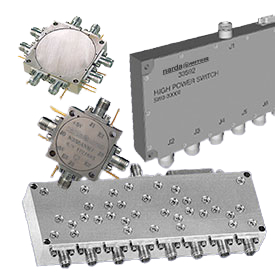 Narda-MITEQ designs and manufactures a broad line of digital PIN diode switches covering multi-octave bands from 80 MHz to 44 GHz. We have extensive experience in switch design and development for critical space, telemetry, transceiver, radar, and EW applications.
We specialize in offering customized solutions that meet your needs for applications that require extremely fast switching time. Our solid-state switches incorporate a wide variety of techniques to achieve high performance over a wide range of specification requirements.
Our PIN Diode Switch solutions are backed by Narda-MITEQ's generous warranty and most are available as RoHS Compliant components.
---
We can, on special request, provide single pole nine-throw PIN diode switch (SP9T), single pole ten-throw PIN diode switch (SP10T), single pole eleven-throw PIN diode switch (SP11T), single-pole twelve-throw PIN diode switch (SP12T) and can array switches to form switch matrices to handle signal routing in complex systems.
Narda-MITEQ can provide switches as drop-in functions for those applications that require higher levels of integration. We offer MIL-STD-883 screening of our switches and can accommodate special connector requirements. See our custom switch application data sheet.
Please contact Component Sales with any special requirements you may have:
Tel: 631-231-1700
---
---
Active Components
---
Phase Shifters
|
PIN Diode Attenuators
|
Power Dividers and Hybrids
---
Switch Amplifier Assembly
|
Switch Assemblies
|
Switched Amp Filter Banks
---
Please
Contact Narda-MITEQ
for more information:
More Contact Options...