Modulators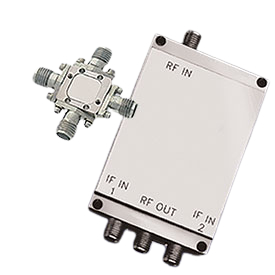 Narda-MITEQ designs and manufactures a wide selection of modulators including:
BPSK Modulators
Biphase Modulators
Carrier (LO) Driven IQ Modulators
Modulation Driven IQ Modulators
Single Sideband Modulators
Double Sideband Modulators
IQ Modulators
QPSK Modulators
QAM Modulators
Available with coaxial connectors, these components provide excellent harmonic rejection as well as good carrier and sideband rejection while maintaining low conversion loss over their operating range.
A modulator commonly varies some aspect (amplitude, phase, or frequency) of an RF carrier (fo, in proportion to a much lower frequency video or digital input signal (fm). In general, the input frequency components of the modulation typically extend from DC to 100 MHz, except for fast data links.
In order to preserve the information content superimposed on the RF carrier, one must insure that the output system bandwidth is adequate to pass both upper and lower sidebands (i.e. fo + fm) without distortion. In fact, system amplifier and channel distortion often will add residual AM or PM modulation to an otherwise clean transmitter.
---
Upconverter and modulator circuits are very similar except that in the upconverter case is usually only interested in transmitting one of the output sidebands (upper or lower) and suppressing the other. In this manner all input information at the fm port is preserved but shifted in frequency to only one RF transmitted sideband. SSB converters usually employ an input 90° hybrid to accept octave bandwidth signals in the 30 to 500 MHz range. DSB upconverting mixers often use a double-balanced mixer circuit with a high-frequency IF input that products a large separation between upper and lower output sidebands that are filtered further in the system.
A vector modulator is commonly used to vary only RF carrier phase in a linear fashion with time so that no RF amplitude variations occur. A shift in the RF carrier frequency will occur in direct proportion to the time rate of change of RF output phase. This device is sometimes known as a phase shifter or frequency offset generator (FOG). Both output sidebands can be utilized to simulate forward or reverse movement of a variable amplitude RF source (ie: Doppler generation or corrections). More recently, digital-controlled vector phase-shifting circuits are being used with linear amplitude compensation to adaptively cancel an unwanted RF echo signal. This circuit provides the unusual property of nearly linear operation at the modulation and RF input ports, although the rate of modulation is restricted.
Narda-MITEQ maintains dedicated engineering resources to modify our standard designs in support of custom-generated specifications.

Please contact Component Sales with any special requirements you may have:
Tel: 631-231-9220

All Modulators are backed by Narda-MITEQs Warranty and most are available as RoHS Compliant components.
---
Literature:
---
---
Active Components
|
Passive Components
|
Spaceborne Products
---
Converter Modules
|
Frequency Multipliers
|
Mixers
|
Multipliers
|
RF/Microwave Components
---
Please
Contact Narda-MITEQ
for more information:
More Contact Options...