Phase Shifters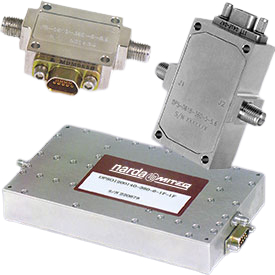 Narda-MITEQ designs and manufactures a standard line of high quality Phase Shifters. We specialize in developing phase shifters for critical space, telemetry, transceiver, radar and EW applications.
Our solid-state Phase Shifters incorporate a wide variety of techniques to achieve high performance over a wide range of specification requirements. A combination of switched line, loaded line, and switched reflection techniques are used to achieve minimum loss and increased performance in constant phase designs.
All Phase Shifter designs are implemented using microstrip construction, which enables circuits to achieve high isolation and low VSWR. Integral TTL compatible logic circuits are included in all digital phase shifters as standard. Designs are optimized to handle power levels as high as 1 Watt CW.
---
We specialize in offering customized solutions that meet your needs for applications that require extremely fast response time.
Narda-MITEQ can provide phase shifters as drop-in functions for those applications that require higher levels of integration, We also offer MIL-STD-883 screening of our phase shifters and can accommodate special connector options.
Please contact Component Sales with any special requirements you may have:
Tel: 631-231-9220
Narda-MITEQ Phase Shifters are backed by Narda-MITEQ's Warranty and most are available as RoHS Compliant components.
---
Literature:
---
---
Passive Components
|
Spaceborne Products
---
PIN Diode Attenuators
|
PIN Diode Switches
|
Power Dividers and Hybrids
---
Please
Contact Narda-MITEQ
for more information:
More Contact Options...